IT'S TIME TO CONSIDER A NATURAL SOLUTION.
The PROGreen Solutions team is focused on shifting away from synthetic, chemical-based refrigerants to natural solutions like CO2 which eliminates our impact on global warming without sacrificing operating efficiency.
CO2, or R744, literally sets the benchmark that all other refrigerants are rated against when it comes to Global Warming Potential, carrying a GWP rating of 1- no impact on global warming.
To compare, 97% of the equipment produced by PRO in 2021 uses a refrigerant, R404A with a rated GWP of 3,900.
We use the same grade CO2 that our customers use to carbonate their Brite tanks. Our cost is currently about $2.00/lb, compared with $7.00-$15.00/lb for our common, chemical-based refrigerants.
The CO2 that we utilize is simply borrowed from the atmosphere versus the synthetic refrigerants that come at a tremendous expense and all with a future phase out date.
Factoring real-world conditions with increased heat recovery capacity, our engineers can make the case for natural refrigerants even in extreme climates like Bakersfield, CA.
CO2, or R744, has a high density, allowing us to utilize smaller diameter components than our current systems, and higher operating pressure gives us the ability to move a higher volume of refrigerant.
CO2 or R744, happens to have outstanding thermodynamic properties making it an excellent source of heat for fluids like wash water on a dairy farm.
Our current systems recover approximately 30% of the total heat rejected from our systems. With CO2 systems, we can easily operate above the trans critical point where there is no correlation between pressure and temperature. This allows us to increase recovery to more than 100% and even eliminate fossil fuel heating sources completely by generating hot water even during low cooling load and low ambient periods.
CO2 driven water heating systems can reliably deliver temperatures reaching 200 degrees F.
CO2, or R744, occurs in natures bio-chemical processes and is both NON-FLAMMABLE and NON-TOXIC.
To compare, 97% of the equipment produced by PRO in 2021utilized a chemical based refrigerant, R404A, with a rated GWP of 3,900. (Yes, that is 3,900 times more destructive to the environment than CO2!)
For PRO's 30+ year, federal regulations have been continuously enacted to protect the environment. These efforts have helped reduce the number of high GWP systems, but they've also required manufacturers like PRO to redesign, retest, and re-certify their equipment for a competing list of low GWP (chemical-based) solutions, often with a compromise in efficiency and/or cooling capacity.
CO2, or R744, as a refrigerant is the "baseline" for the Global Warming Potential (GWP) rating, it will never have a pending phase out date.
100HP – Parallel 50HP Bitzer R744 compressors
750 gallon dual-chamber coolant storage vessel with external site tube and digital thermometer
V Series gas coolers with 304 SS-tube / AL-finned coils
EC rated fan motors that ramp up and down to control pressures
Onboard heat recovery generating 180ºF hot potable water supply
Boxed steel frame outfitted with Conex corners for rigging, loading, and leveling. 
Process pump supplied with variable frequency drive
Standby/backup SS circulation pump
Standby/backup SS process pump
Stainless steel service panels
Danfoss refrigeration control with full electronic controls
Electronic glycol percentage tester
Panel-mount touchscreen interface
PROElliot Cold Chain Verification integration
Have a custom project? We can help!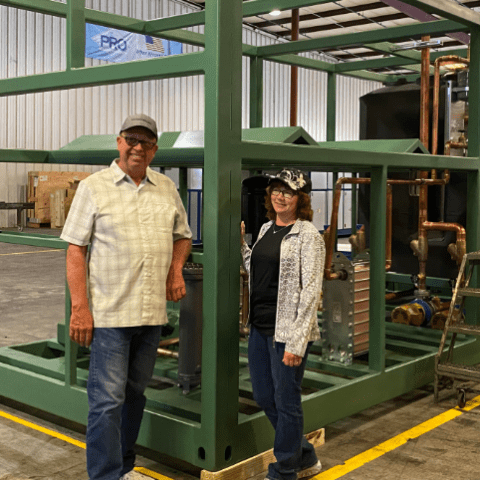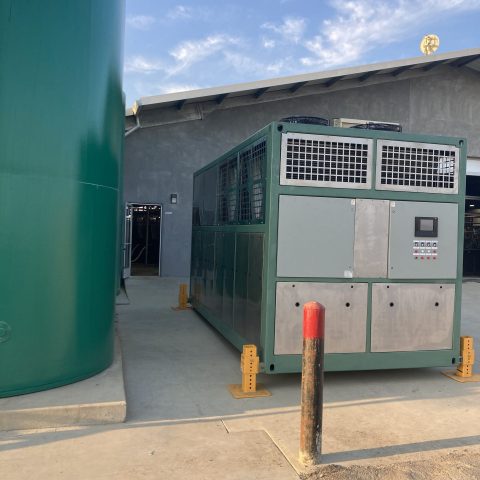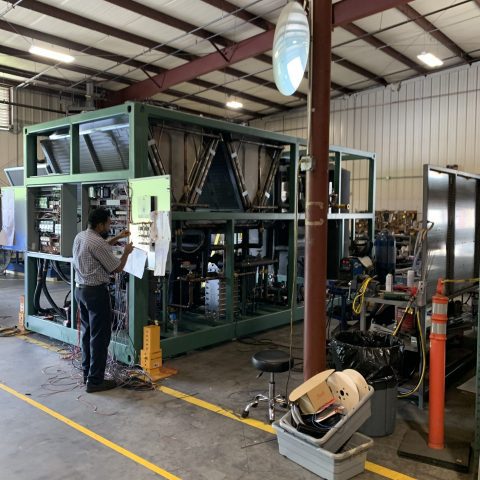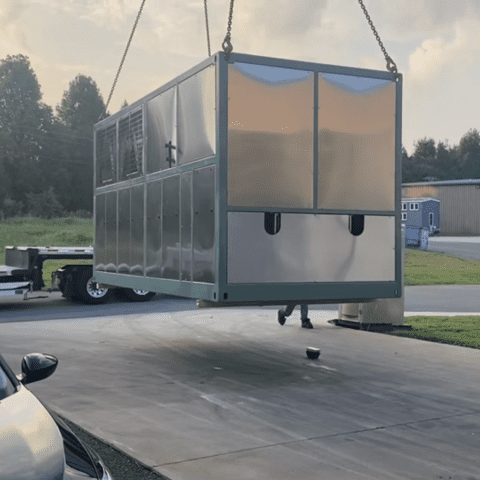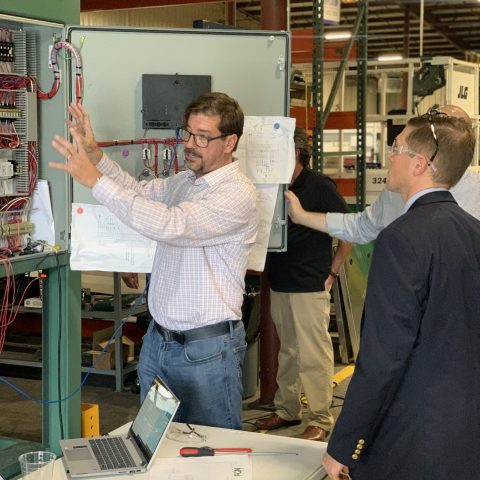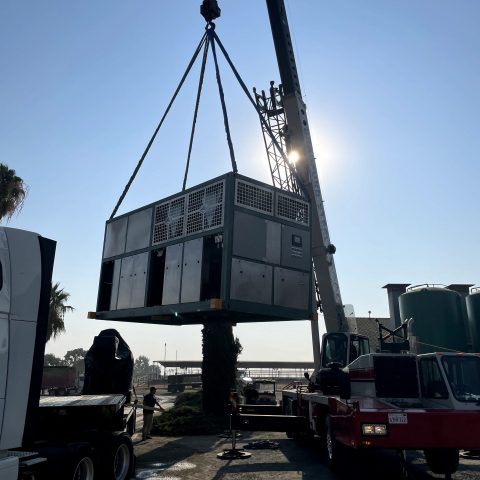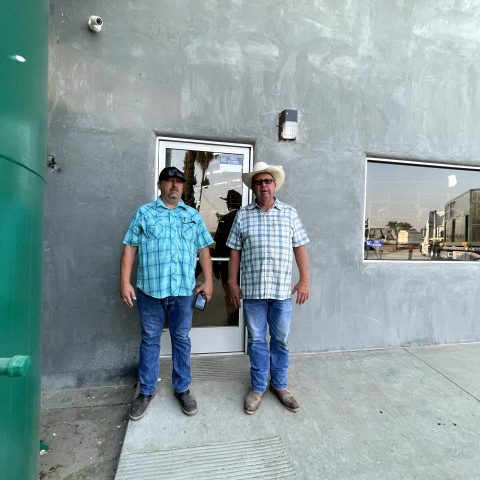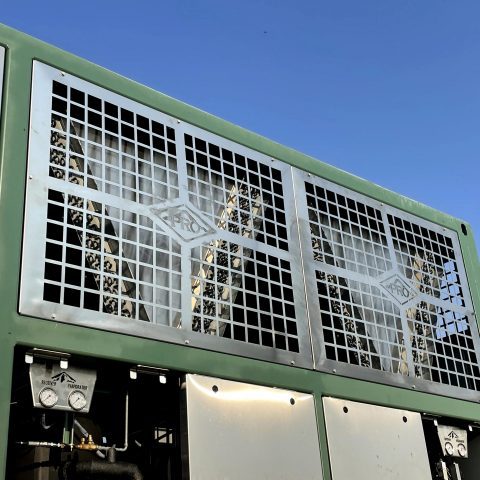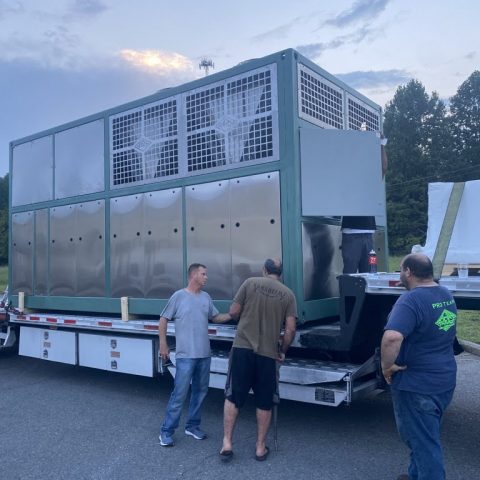 250 HP Hybrid Chiller System Tour (R744 + R488a)
Damon Reed's Interview on the Refrigeration Mentor Podcast
Interview between Marc from ATMOS and Jim on how we got started, and how things are going so far.
IT'S TIME TO CONSIDER CARBON DIOXIDE AS A REFRIGERANT
April 10 2022 – Process Cooling Magazine

About every 10 years, refrigeration equipment manufacturers are forced to redevelop their products for newer, safer, more climate-friendly, alternative refrigerants. This sounds positive, but it comes at a substantial cost, which is primarily covered by the end users. These mandates drive up costs in the form of engineering, development and testing to ensure that…..    VISIT ARTICLE
SOUTHERN DISTILLING COMPANY INCREASES COOLING EFFICIENCY AND REDUCES ENVIRONMENTAL FOOTPRINT WITH THIRD PROCHILLER SYSTEM PURCHASE
Southern Distilling Company, based in Statesville, NC, has recently invested in a cutting-edge PROChiller System that harnesses the power of the natural refrigerant R744 (CO2) in place of traditional chemical refrigerants. This latest acquisition marks the distillery's third purchase of a PROChiller System, affirming their trust in PRO Refrigeration's cooling solutions since their inception…
CALIFORNIA DAIRY INSTALLS CO2 CHILLER SYSTEM
January 09 2023 – ACHR News
After months of hard work from the teams at PRO Refrigeration and San Joaquin Valley Dairy Equipment (SJVDE), South Creek Dairy in Earlmart, California, is now producing milk with the climate in mind. The project culminated with the commissioning of a PROGreen Solutions 100-hp chiller system that replaces chemical-based refrigerant with a natural CO2-based solution…
CALIFORNIA DAIRY FARMER INSTALLS PRO REFRIGERATION'S CO2 CHILLER, FOLLOWING UNCLE'S EXAMPLE
South Creek Dairy, a dairy farm based in Earlmart, California (U.S.), has finished commissioning a 100HP CO2 (R744)-based chiller system from PRO Refrigeration, a 31-year-old company that specializes in packaged chillers for the craft beers producers, wineries and dairy farms….. VISIT ARTICLE
DANFOSS AWARDS PRO REFRIGERATION WITH 2022 ENVISIONEER OF THE YEAR AWARD
September 02 2022 – Danfoss
PRO REFRIGERATION JOINS R744.COM AS BRONZE PARTNER
To celebrate partnering with R744.com, Pro Refrigeration's CEO Jim VanderGiessen joins ATMOsphere Founder and CEO, Marc Chasserot, to discuss PRO's commitment to developing environmentally conscious refrigeration..… VISIT ARTICLE
ALASKAN BREWERY COMPLETES TRANSITION TO CO2 PROCESS COOLING
Denali Brewing & Spirits has completed another phase of decarbonization efforts with the installation of PRO Refrigeration's newest PROGreen.  Last week, the work of four teams culminated in Talkeetna, Alaska with the commissioning, site training, and startup of the first natural-refrigerant chiller system for Denali Brewing and Spirits.… VISIT ARTICLE
REFRIGERATION EQUIPMENT MANUFACTURER HELPS CA BUSINESSES SHIFT FROM CHEMICALS TO NATURAL REFRIGERANTS
PRO Refrigeration welcomes California dairy farmers and winemakers to Mocksville, NC, to see the state-of-the-art PROGreen Solutions R744 (CO2) Chiller Systems. Christopher Jongsma of South Creek Dairy in Pixley, CA, invited his grandfather, John Jongsma, to travel to North Carolina and check the status of his new chiller system. Chris continues the legacy of… VISIT ARTICLE
DENALI BREWING & SPIRITS MAKES THE "NATURAL" CHOICE WITH PRO REFRIGERATION
Denali Brewing Company and Denali Spirits partner with Pro Refrigeration following the announcement of Denali's newly created ready-to-drink cocktails being named the official canned cocktail at Climate Pledge Arena, home of the NHL Seattle Kraken. Pro Refrigeration will provide the cooling capacity to support Denali's new product line and allow their circa 2013… VISIT ARTICLE
IT'S TIME TO CONSIDER CARBON DIOXIDE AS A REFRIGERANT
APRIL 10 2022 – PROCESS COOLING MAGAZINE
Natural refrigerants deserve to be a bigger part of the climate-saving solution. About every 10 years, refrigeration equipment manufacturers are forced to redevelop their products for newer, safer, more climate-friendly, alternative refrigerants. This sounds positive, but it comes at a substantial cost, which is primarily covered by the end users… VISIT ARTICLE
CO2 CHILLERS GIVE PRO REFRIGERATION A 'FUTURE-PROOF SOLUTION'
With the approaching HFC phasedown, the demand for environmentally friendly cooling systems is driving chiller manufacturers to innovate. Washington-based Pro-Refrigeration, Inc., a leading manufacturer and supplier of chillers for the industrial and beverage processing market, including the dairy, beer and wine industries, recognized an opportunity with CO₂ chillers… VISIT CASE STUDY
PRO REFRIGERATION TO FACTORY TEST FIRST CO2 CHILLER MANUFACTURED IN THE U.S.
PRO Refrigeration is taking the next step toward becoming the first US-based manufacturer to add a carbon dioxide (CO2) chiller system to its standard product offering… VISIT ARTICLE
TEAMWORK MAKES THE DREAM WORK: MOCKSVILLE COMPANY PARTNERS WITH CALIFORNIA DAIRY FARMER
JULY 12 2021 – DAVIE COUNTY ENTERPRISE
PRO Refrigeration has welcomed California dairy farmer, Bill Jongsma, and dealer partner Rick Mayo, San Joaquin Valley Dairy Equipment, to Mocksville to tour the manufacturing facility and to see the Jongsma's future state-of-the-art CO2 chiller system first hand… VISIT ARTICLE
FIRST U.S. MADE CO2 CHILLER SET TO BE DEPLOYED AT CALIFORNIA DAIRY
PRO Refrigeration, Inc., an Auburn, Washington (U.S.)-based packaged chiller manufacturer, is finishing production on a CO2 (Ry44)-based chiller that will be used for process cooling and hot water generation at a dairy in Tulare, California (U.S.)… VISIT ARTICLE
PRO REFRIGERATION INTRODUCES CO2 CHILLER SYSTEM IN PLAN TO PHASE OUT REFIGERANTS WITH HIGH GWP
PRO Refrigeration, the leading cooling technology and equipment company for fermented craft beverages, dairy, and food processing, has begun production of its first carbon dioxide (CO2/R744) chiller system. This is the first step in the company's plan to reduce refrigeration global warming potential (GWP) by phasing out its use of refrigerants with a high GWP.… VISIT ARTICLE