PROPlateHXTM
THE HEAT EXCHANGER THAT MADE INSTANT
COOLING THE NEW STANDARD
The PROPlateHX is a stainless steel, gasketed, plate and frame heat exchanger used to remove and add heat as the process requires.
PRO + THERMALINE
A PARTNERSHIP DEDICATED TO COOLING MILK
At the center of Instant Milk Cooling is a 2-Stage PROPlateHX Sanitary 3A Heat Exchanger matched with a PROChiller System. The first chiller and plate cooler combination designed specifically to cool milk from 98°F down to 36°F as it is being transferred from the parlor to the milk house.
By adding a properly sized DAIRYPro Vat, the concept of Instant Milk Cooling has transitioned into the industry standard, and today applied to every new production dairy built in the United States.
In addition to producing higher quality milk, Instant Milk Cooling allows farmers to consolidate the refrigeration equipment to a central "chiller system", reducing service and maintenance costs. Waste heat from the refrigeration systems is now a relied upon as a significant heat source for the farms hot water needs.
Today it is even possible for some famers to eliminate their bulk tanks completely transferring instant cooled milk directly into staged milk trucks, reducing additional installation, maintenance, sanitation expense.
INSTANT COOLING IN 4 STEPS


STANDARD PROPlateHXTM MODELS & OPTIONS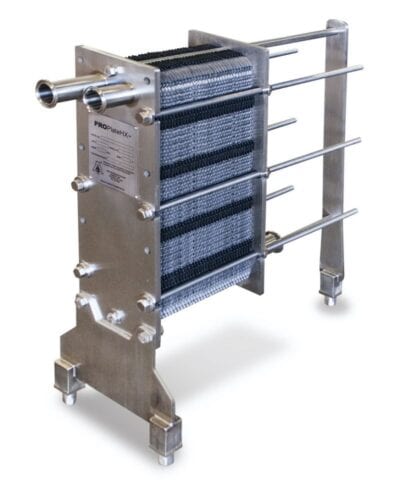 Pre-coolers